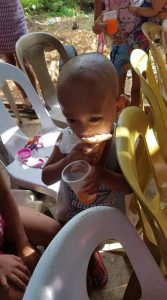 GFOM Monthly Newsletter for November, 2018
Hello Family and Friends of Global Family Outreach Ministry,
As I am writing this monthly news article for November, It is already December. I am reflecting this month how Global Family Outreach Ministry celebrates our ten-year anniversary of existence and the thousands and thousands of souls impacted by what great things we have done through the Lord Jesus Christ. We have not only served in the Philippines, but also in Panama. We have reached out to other nations also indirectly as well including Indonesia, Malaysia, Canada, Japan and China. What a blessing to be part of the Lord's ministry and see many saved through Christ!
We are preparing for Christmas in the Philippines. The children are being fed and both they as well as Bible Study groups with parents that have accepted Jesus as their Lord and Savior continue. As we have done in the past, we want to show Jesus to those whom we serve in a practical way during this Christmas Season with these malnourished children and families. The Christmas Season in the Philippines is a very big holiday. Most children never receive gifts on Christmas as their parents are too poor to give gifts, but we want to give the children some token of the love of Jesus, letting the children that we serve, know that Jesus does care for them and will always love them, never forgetting them
We are daily praying that you will please make an extra donation this Christmas Holiday to bless these malnourished kids and their family members, or if you haven't already, please start to help and partner with us financially to see many souls saved. We are always looking for additional ways to fund the ministry. We at Global Family Outreach Ministry utilize local Pastors and churches to provide such awesome and equally productive/effective evangelistic outreaches.
Besides financial blessing our work, we are always looking for good folks to donate auto-vehicles such as well operating/running cars, motorcycles, trucks, vans, commercial vehicles and boats to Global Family Outreach Ministry so we can sell them to raise funds for the feeding of the children. If you, or if you know anyone who is willing to donate a good and decent running vehicle to GFOM, please let us know. We will give anyone who donates to GFOM, a tax-deductible receipt.
A reminder that All donations, whether financial or otherwise are tax deductible but you will need to communicate with your accountant and or IRS Agent to verify rules. Please send your best love gift today to http://beaheronow.net/donate.html.
Again, thank you to all who faithfully support GFOM and the children/families we help together.
Sincerely,
Pastor Paul Waldmiller, Director
Global Family Outreach Ministry