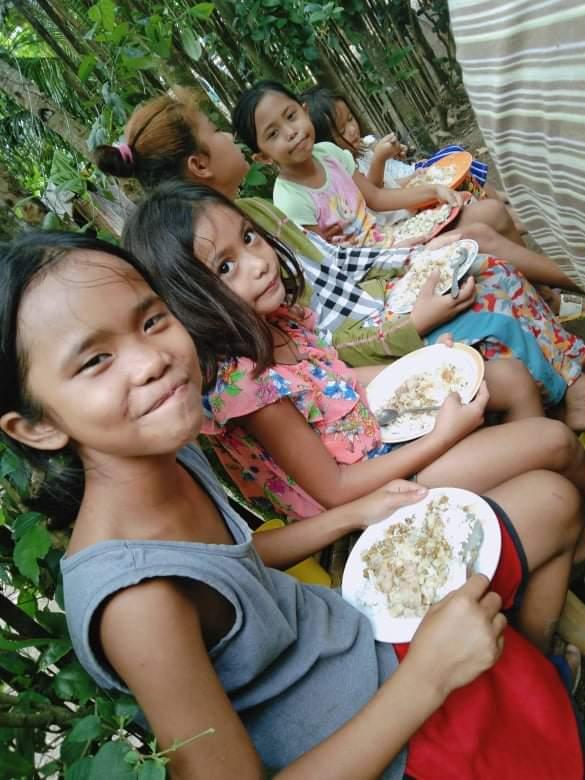 Blessings and Greetings dear family, friends and supporters of Global Family Outreach Ministry!
Our prayers for you as we fight the good fight of faith! Amen.
Praise the Lord, although the Philippines remains largely locked-down due to the COVID Virus mandates, we were able to operate all 5 of our Global Family Outreach Ministry Poor Children's Feeding Programs every week! Currently, nearly every province in the Philippines requires folks to carry permits from their government to travel outside their homes or dwellings. Crazy! As we shared already however, we are so blessed that some of the children are giving their hearts to Christ through the GFOM Feeding programs and you dear friend are a BIG part of why. Whatever amount you have given, has helped children and their families come to Christ and even water baptized, fulfilling the command of our Lord, Jesus.
An update on the balikbayan boxes, Praise the Lord, THEY WERE SENT in August as scheduled. We sent five of the seven boxes that were paid for. So they are already on their way to our 5 GFOM Feeding programs. ETA is expected sometime in November or December but before Christmas. Please keep the boxes filled with many toys, in your prayers. Thank you to you if you are one of the givers ? As we stated in last month's newsletter, we of course promise to give you updates regarding when they arrive and the toys distributed, photos of the toys being dispersed among families. We have asked Pastor Janel who is the general overseer of our 5 GFOM Poor Children's Feeding Programs, to take plenty of photos during the evangelistic event where the toys will be given away.
Can we talk about 2022? I know it's early but in less than three months, 2022 will already be here. We are already in prayer and speaking with someone regarding possibly starting a GFOM Food Distribution Program in the Manila area. Again, we are only having dialogue and prayer, but we looking to how we can get more folks saved through Jesus in a practical way. Salvation tracts along with a team of food distributors would share the Gospel with those looking for aide. Again, using food as a tool to share Christ. Praise the Lord, a very practical but effective way of evangelizing.
Lastly and unfortunately as a general reminder as we need to also ask, if you have never given nor made a financial donation in a while, please remember to make a donation in any amount to our Poor Children's Feeding or other GFOM Programs. Making a monthly financial contribution is very helpful. Whenever sending your love gift, be sure to please indicate where you want your money to be placed. We have many programs.
Please everyone, if you aren't already, join with us in prayer and in financial giving.
Please make all donations at this link… https://beaheronow.net/donate.html
God bless you! Thank You! and we love you and pray that you to be blessed and well in Jesus' Name!
Rev. Paul Waldmiller-Director, Global Family Outreach Ministry