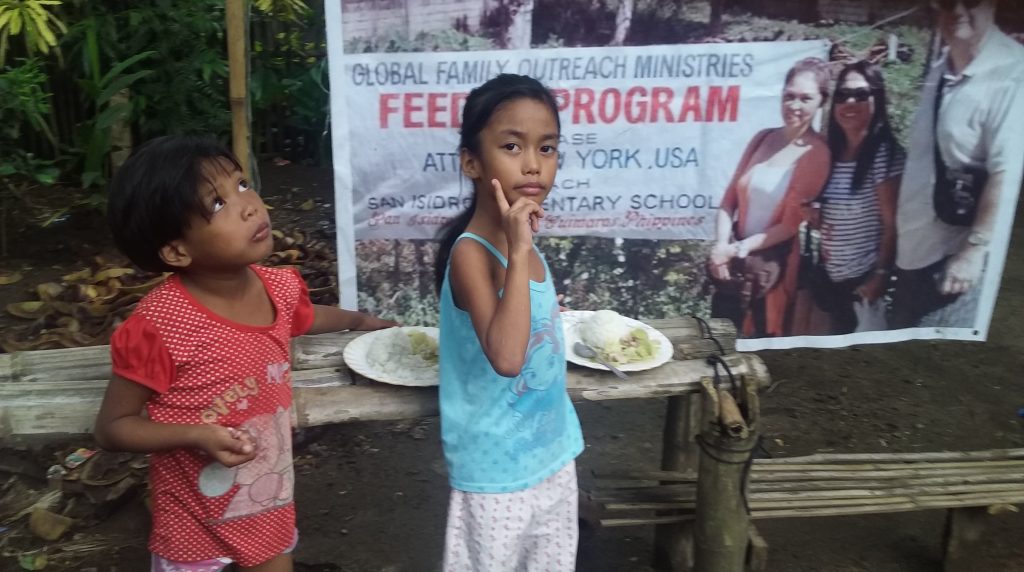 December, 2019 Global Family Outreach Ministry Report
Greetings family and friends of GFOM,
We hope and pray that this letter will be both a blessing as well as an inspiration to you for the upcoming year.
As we closed out 2019, I reflect upon those of you who have been faithful unto the Lord and also in helping the approximately 120 children that we serve together at our three different GFOM Poor Children's Feeding Programs. Glory to God, you have blessed many of these children to not only know Jesus as Lord and Savior, but some of their family members as well!
What a blessed year 2019 was and God certainly showed His favor through your giving and love-gifts to see the name of Jesus exalted. I would love to share our plans here with you for the year 2020, but I will instead, remain focused on 2019. The all-volunteer team we have in the Philippines are hard and dedicated workers. They are faithful to see feeding done as well as follow-up visits with the children and family members in their homes. All done for the Kingdom of Heaven. Praise the Lord.
It has always been the main goal of Global Family Outreach Ministry to see souls saved in and through Jesus of the Bible. No doubt through your partnering with us, you have brought souls to Christ. Thank you! For me personally, 2019 represented eleven years as the President and Director of Global Family Outreach Ministry. I've seen all the good, the bad, and even at times, the ugly (to borrow from a movie title). For the unknowing, being involved in Christian ministry is a difficult vocation often filled with bad times as well as good times. We certainly have our times of tears of heartache as well as tears of joy.
I sincerely pray that you will continue your partnering in the mission field throughout the year 2020. We cannot take one minute to relax or draw-back on our efforts. God is counting on all of us to do our part. Please help this month by giving your very best. Here is the link to help… http://www.beaheronow.net/donate.html
God bless!
Rev. Paul Waldmiller-Director
Global Family Outreach Ministry